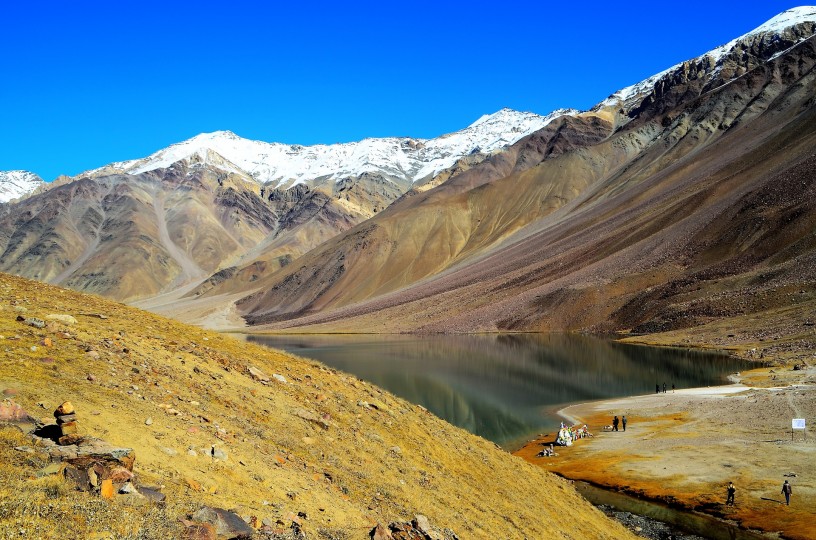 If you are fed up of the usual destinations for your leisure travel on the hills and wanted to visit destinations that are less crowded as the usual ones then we'll let you know the exact hidden gems of the unspoiled Himachal. These places will surely give you the true essence of the Himalayas and the calm break that is much needed to you from the daily hustle of the metro cities.
If you are fed up of the usual destinations for your leisure travel on the hills and wanted to visit destinations that are less crowded as the usual ones then we'll let you know the exact hidden gems of the unspoiled Himachal. These places will surely give you the true essence of the Himalayas and the calm break that is much needed to you from the daily hustle of the metro cities. Given below are the 10 such unusual and offbeat destinations that you should visit the next time you're visiting Himachal Pradesh.
1. Dharamshala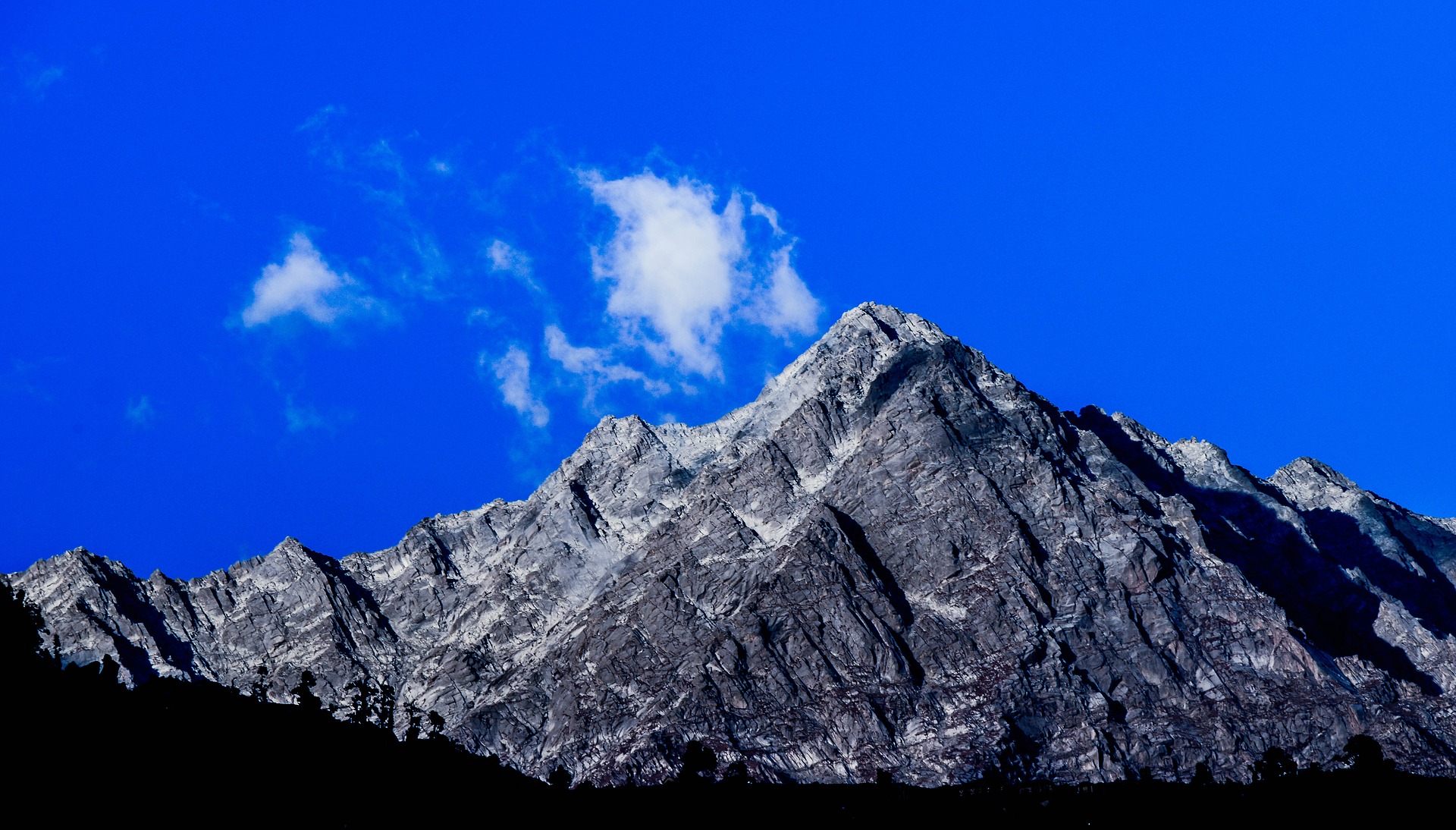 Dharamsala, famous for the holy residence of the Dalai Lama, houses the Tibetan monk in exile. Being a Tibetan influenced place, Dharamsala is considered to be one of the best places to learn about Buddhism, visit here to explore the rich Tibetan Culture too.
People who have interest in exploring the culture or are in search of meditation and peace should visit this place or sure. Also, for the people who enjoy trekking, Dharamshala will not let your expectations down as there are a number of treks to enjoy the calm and peaceful Himalayas.
A lot of restaurants and cafes are available here which serve decent food. Dharamshala has been dominated by the Tibetan culture with Tibetan cuisine being served most of the time. Few pubs could also be found here which serve imported alcohol along with food and running music in the background. Momos are the specialty of this place. A variety of momos popularly known as Tingmo, Samosa prepared in Tibetan way known as Baklebs and Thukpas which is a meal of soup and noodles are most common in locally available food items.
2. Mcleodganj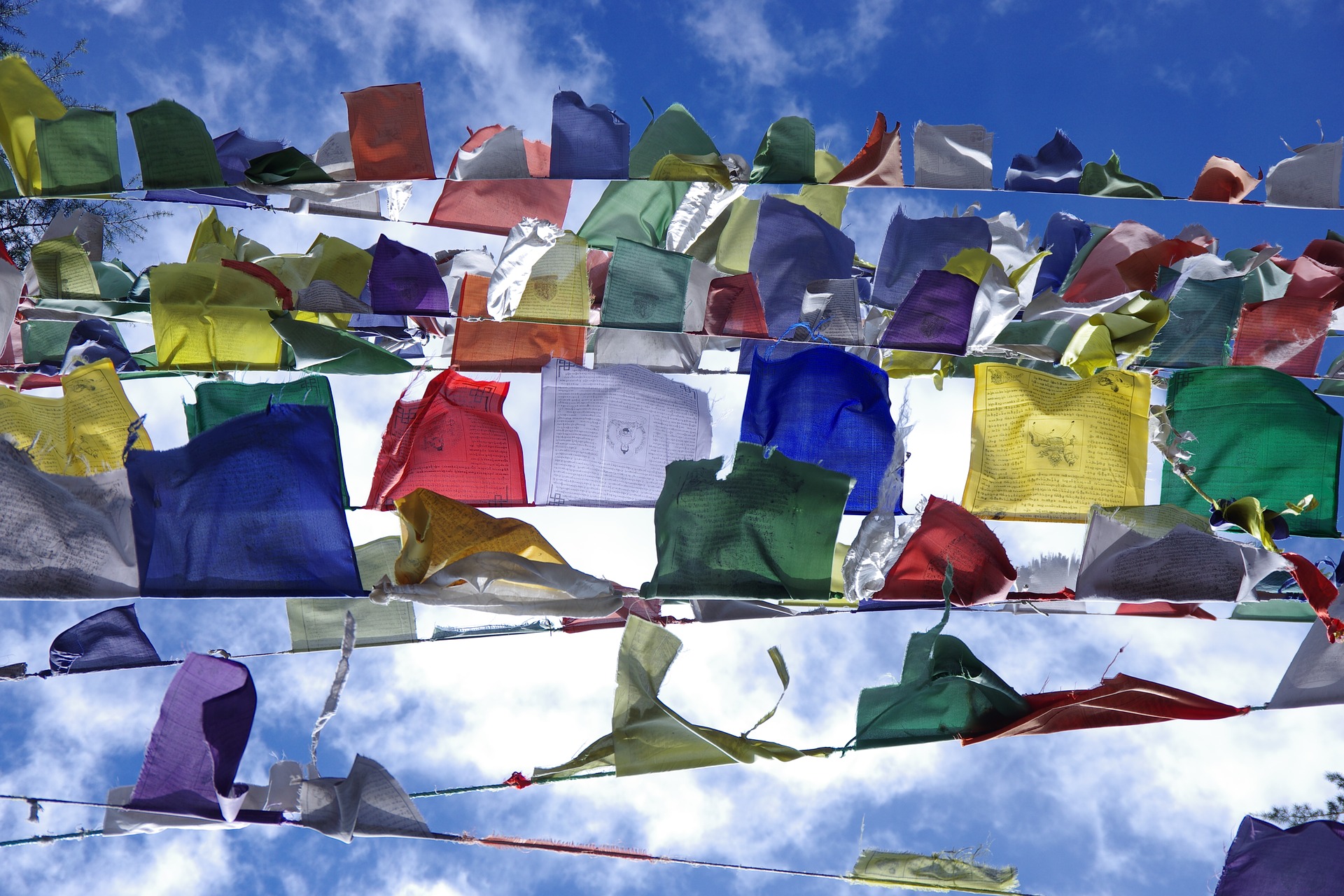 Mcleodganj also was known as Little Lhasa is a hill station near Dharamshala. It is popular amongst trekkers. Nestled amidst mesmerizing hills and lush greenery, the culture here is a beautiful blend of Tibetan with some British influence.
Mcleodganj has one of the most magnificent landscapes in the entire Himachal Pradesh and attracts a lot of tourists from all over India and abroad, all around the year. The towns of Kangra, Bhagsu Nag and Dharamsala are situated near Mcleodganj, tourists must take this advantage and should cover all these destinations while visiting Mcleodganj. Tourists must also visit the beautiful Dal Lake and Triund, which are meant for no noisy picnics.
Mcleodganj is dominated by a variety of authentic Tibetan cuisine, a delicious dash of Italian food, bakeries sell stuff at minimal prices, a French brunch, a rather Lebanese surprise and a friendly North-Indian meal with Parathas and Tandoori delicacies are what make Mcleodganj an almost hometown like paradise for those who live to eat. Other than these there are lots to savor from the typical continental cuisines, North-Indian platters, Japanese and Chinese available here. Also, the city provides some of the finest and most delicious Italian delicacies.
3. Khajjiar
Khajjiar is often referred to as 'mini-Switzerland of India'. It is a small town near Dalhousie which provides tourists a unique combination of forests and lakes. Famous for the nine-hole golf-course which is situated in the surrounding of scenic greenery and a mesmerizing landscape, Khajjiar is a small plateau which also has a small lake.
Many kingdoms including the Rajputs and Mughals were influenced by the mesmerizing beauty of this place. Khajjiar is surrounded by green meadows and dense forests. It is also known for its beautiful temples. This region also attracts adventure seekers and has a lot of options in adventure sports like zorbing, paragliding, trekking, horse riding etc.
There are very limited options for food and cuisines. You will find no elaborated food items in the menu. Also, there are just a few restaurants that serve Indian food, most of the food items are influenced by Tibetan culture thus hotels and resorts have more variety when it comes to food.
4. Kinnaur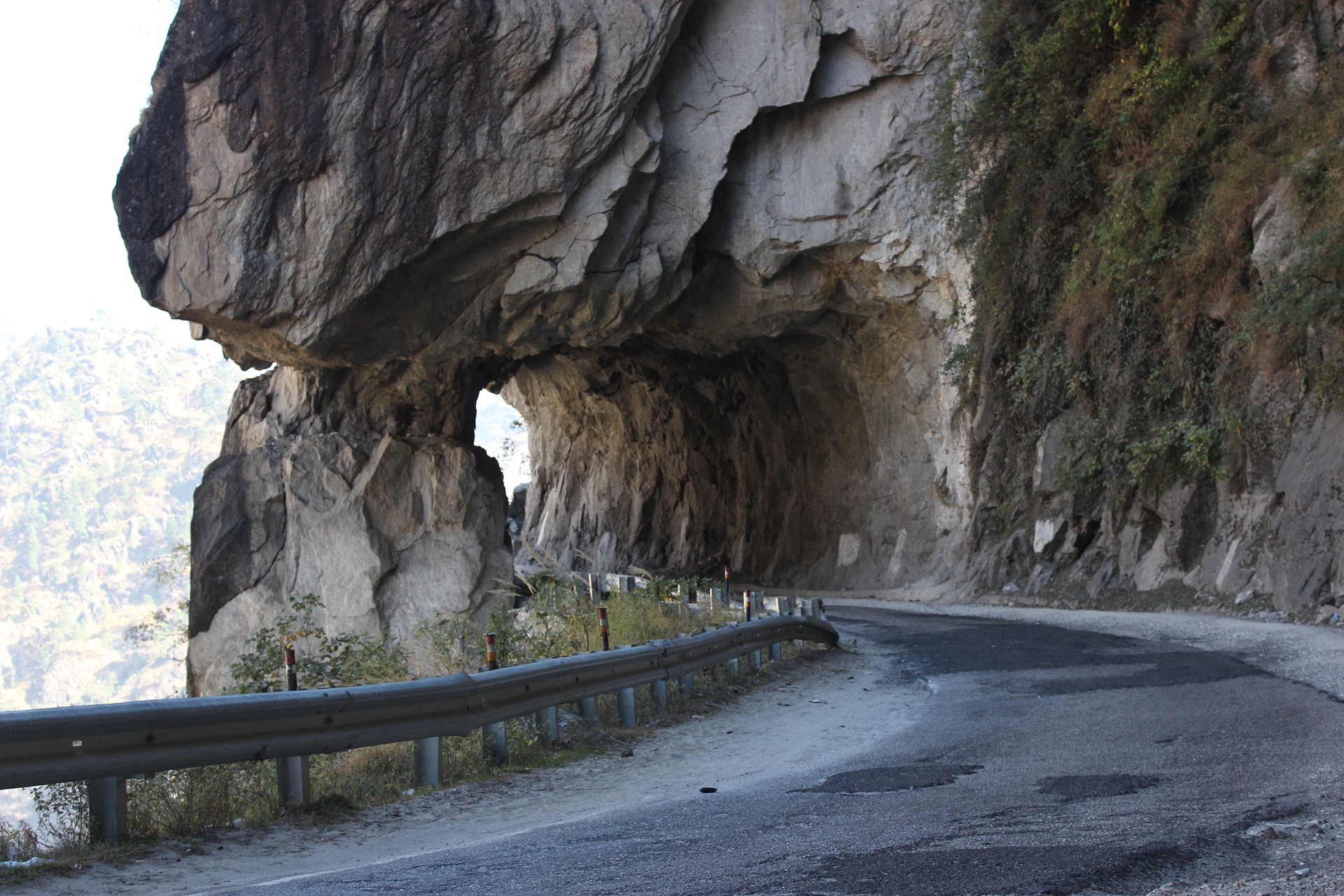 Kinnaur is also known as "Land of God". It is located at a distance of 240 Km from Shimla. It is known for its beautiful lush green and rocky mountain landscape. Three rivers pass through the beautiful Kinnaur ie Satluj, Baspa, and Spiti.

The culture here is equally influenced by Buddhism as Hinduism. The experience of spending time here and experiencing the culture is of a different sort which is well preserved by its people in this era of modernization. Kinner Kailash is the main attraction for the Hindus visit Kinnaur, believed to be the home of Lord Shiva and the Shivalinga rocks. The stories of Pandavas as prescribed in the great epic Mahabharata and their link with Kinnaur is a great attraction.
The old Buddhist monasteries and temples hold special importance and are revered by Buddhists. Apart from religion, Kinnaur also attracts people who are adventure lovers as there is a large scope of adventure sports like trekking and skiing here. There are about nine known routes for trekking and some of them are five days or six-day trips.
Kinnaur is well known for its handlooms and handicrafts materials, delicious apples and Chilgoza. A few traces of modernization can be seen in the town, with its cultures and people too, but the area continues to be simple and magnificently beautiful. Your trip will be incomplete if you do not have a few red apples grown here as and drink a glassful of cha, a salted tea known to refresh the soul.
5. Bir Billing
Bir is a small town in the state of Himachal Pradesh. Bir Billing is popular for paragliding and it hosts the World Paragliding Championship every year. Bir Billing is one of the world's best spots for Paragliding. The overall altitude change is around 800m between Bir & Billing. The site to take-off is called Billing and the landing site is Bir.
The town of Bir is also an important center of meditation practices and spiritual studies. A large part of the communities in the town are Tibetan settlement and the culture of Bir is highly influenced by Tibetan culture. Besides this, one can also opt for trekking as activities and visit Deer Park and the Bir Tea Factory.
Whether Hinduism or Buddhism, Bir is also home to centers of spiritual studies. Also, Bir is home to several refugees from the disputed state of Tibet. They have settled at the end of the village Chowgan in the Bir Tibetan Colony.
Bir offers a number of choices to its visitors with delicacies from across cuisines. Both Indian and Continental food could be easily found here at a very nominal price. Having a majority of the population a Tibetan settlement, the food here is also influenced by Tibetan cuisine and popular food items include noodles, soups, and Momos.

6. Mandi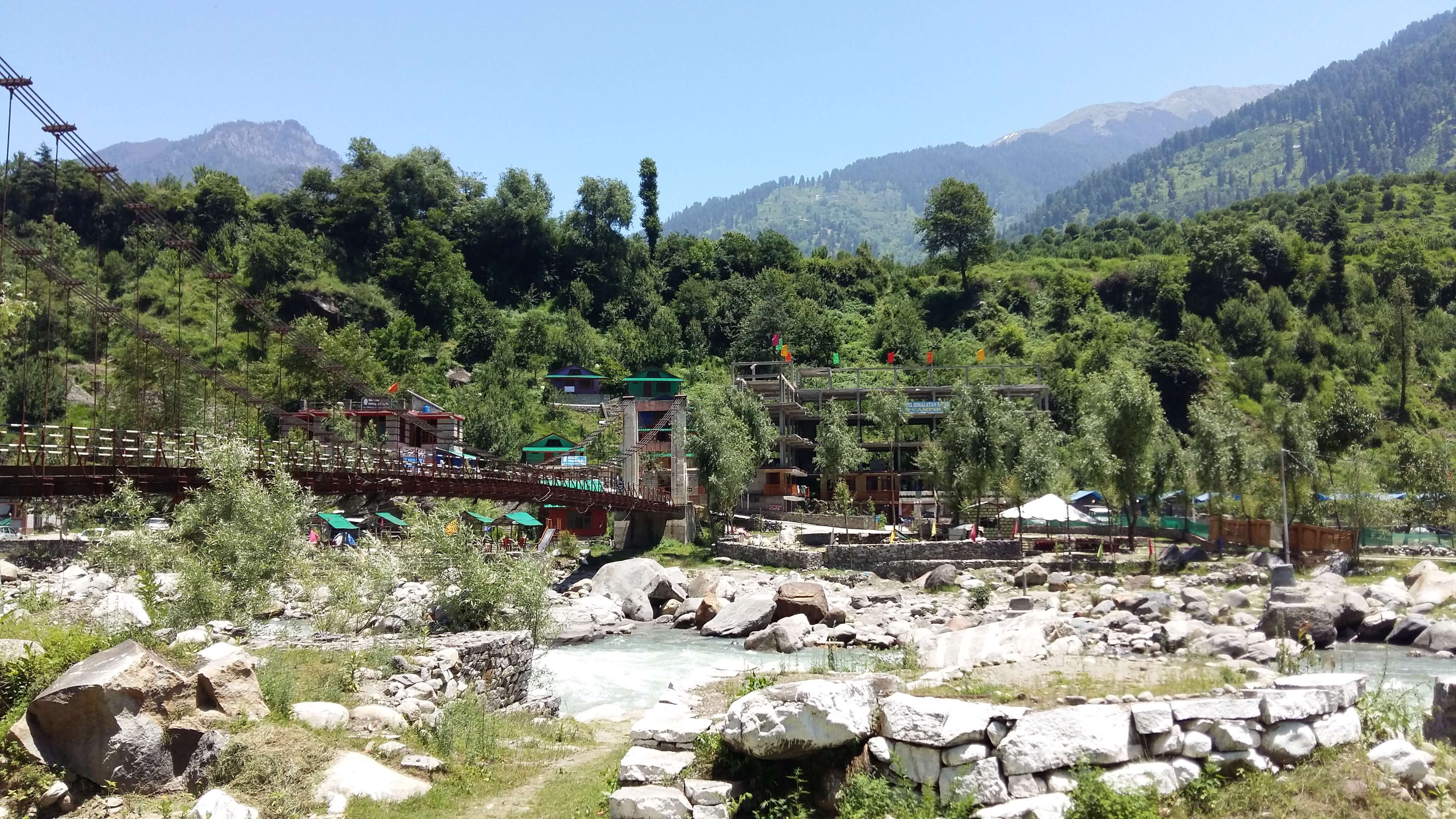 Mandi is situated at the junction of Kulu and Dharamshala. It is packed with a thick green cover of pine and deodar trees with wide spread out tea plantations. It is often referred to as 'Choti Kashi' or 'Varanasi of Hills'. The town also has 81 temples spread across the town.
Mandi is much more than a popular commercial hub of Himachal Pradesh. Mandi lies on the banks of River Beas also displays some old palaces and exquisite form of colonial architecture.
The town of Mandi has managed to sustain their traditions and culture. The people wear traditional Indian clothing, but with the influence of western culture, the youth here could be seen wearing modern outfits. Mandeali is the language spoken in the region and the people of Mandi are called Mandyalis. The town is famous for its International Mandi Shivaratri fair which lasts for almost a week in the month of March every year and it attracts a lot of football lovers. It is believed that Mandi was blessed by one of the 10 Gurus of the Sikh religion on his visit to Mandi.
7. Tirthan Valley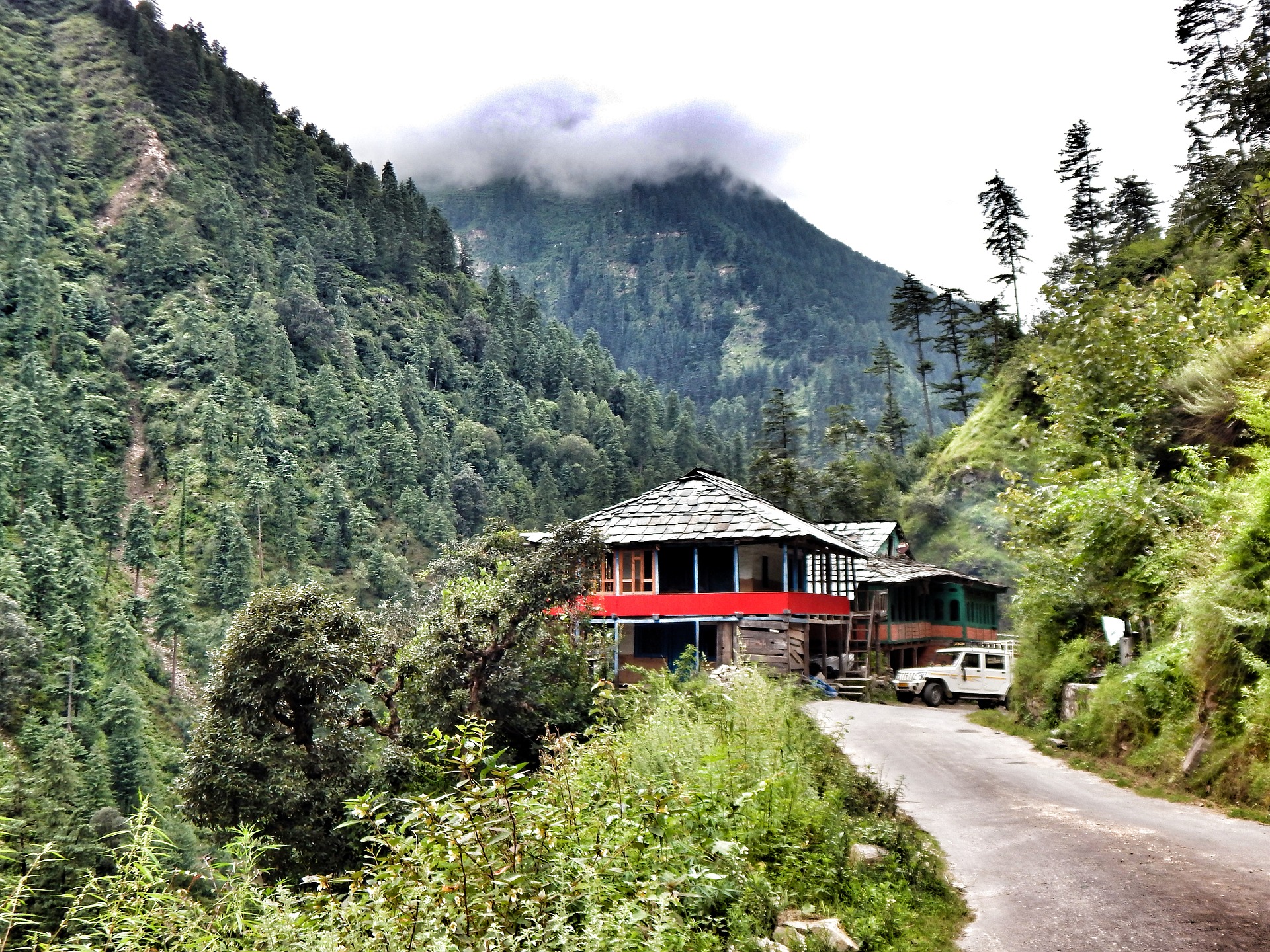 Tirthan Valley is a delightful destination to spend leisure time. Situated at a distance of 3 km from the entrance of Great Himalayan National Park, this place serves a plethora of adventurous activities and is a paradise for nature lovers.
The great snow-covered Himalayas far surrounds the Tirthan River. The valley with a high influx of foreigners is best known for its trout fishing. Magnificent ambiance and lush green paths lead to places nearby the town. Accompanied by amazing weather throughout the year and snow-capped mountains ranges surrounding Tirthan valley is a great spot for holiday lovers who seek adventure as well as peace.
The natural landscape in this area will never get you bored and will always be appealing because of the variety present. Great Himalayan National Park located in the region makes this place a traveler's paradise with added up biodiversity of flora and fauna.
Availability of eating joints and restaurants is very less at Tirthan Valley. Hotels and resort or place of your stay should be the place to have your food and carry other food items before leaving for sightseeing. A few restaurants in Banjar could be found which is some distance away from Tirthan Valley.
8. Arki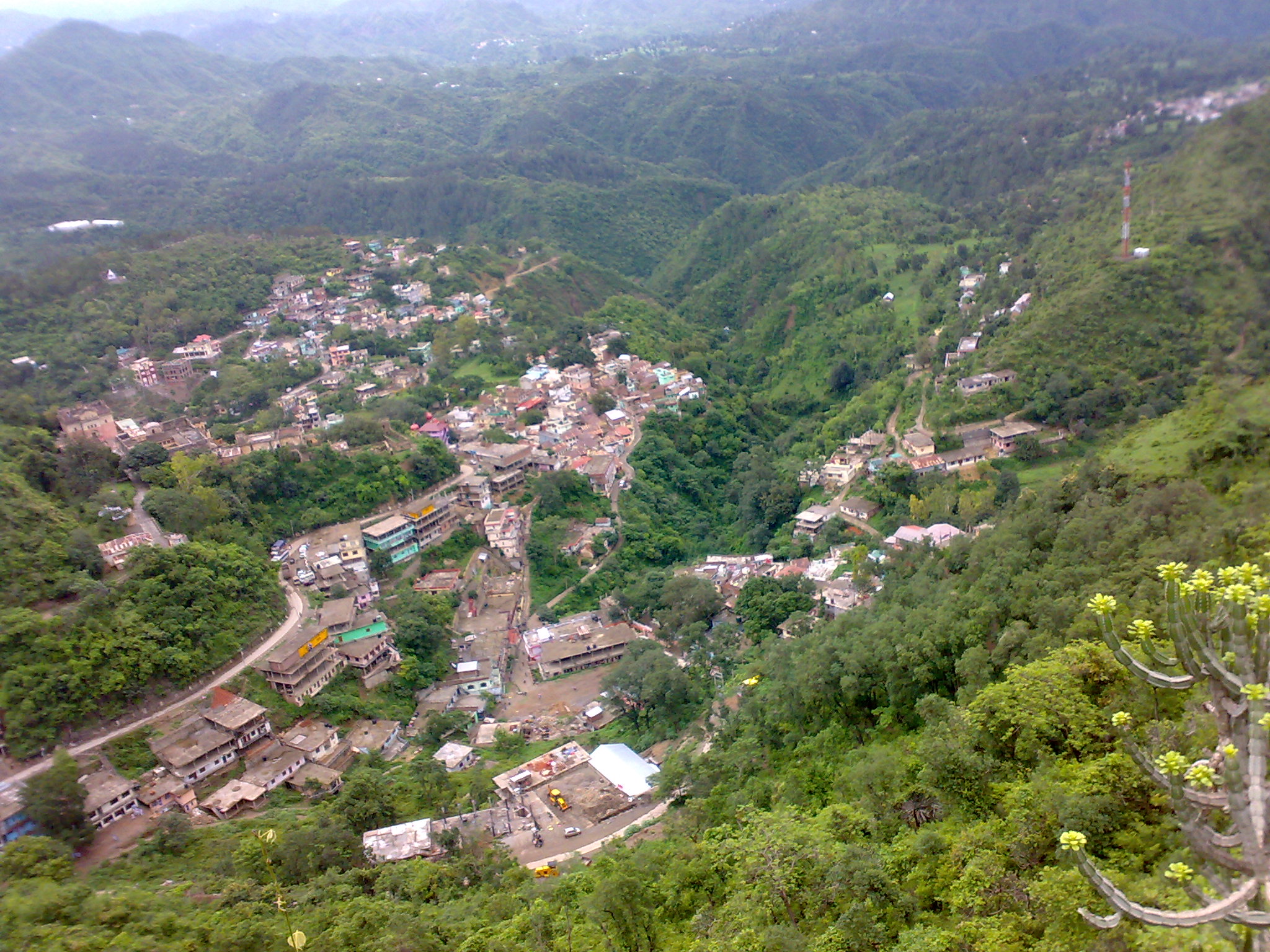 Arki is a small town in Solan district known for its 18th-century fort. Arki is a place less popular amongst general population as a tourist location.
One of the smallest towns in Himachal Pradesh, Arki is situated 52 km away from Shimla. Being highly accessible from the capital of this state, Arki attracts a lot of tourists throughout the year. The beautiful landscapes and pleasant climate of Arki make this place a favorable tourist destination. Arki also has a lot of temples to visit by the tourists with magnificent architecture for spiritual enlightenment.
The Arki Fort, famous for its legendary past, the Luturu Mahadev Temple and the Jakholy Devi Temple are some of the numerous monuments that describe the heritage and culture of this place.
Arki is an exotic destination for tourists and travelers. It has several caves and mountain ranges famous for trekking activities. Arki serves quiet limited food choices and does not have anything elaborate. One can travel to nearby towns for a richer variety and more options for food. You might find some fresh and juicy fruits here since the state is popular for its fine quality of fruits which are usually widely available.
9. Kasol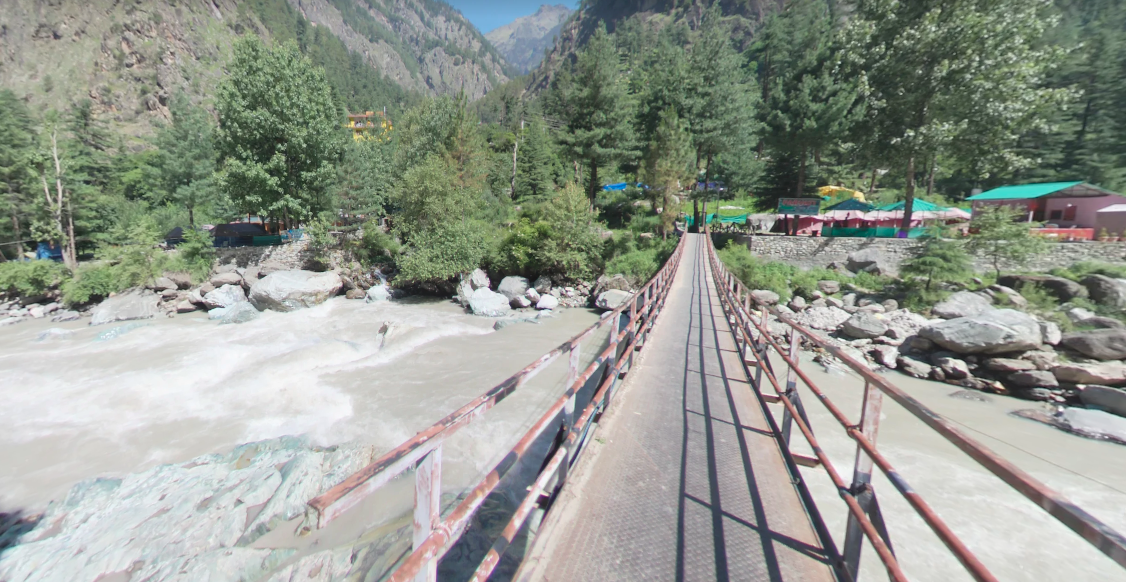 Situated along the banks of the river Parvati, Kasol is a small town that is rapidly gaining fame from backpackers, trekkers, and nature lovers. Kasol is also known as the Amsterdam of India. Kasol might seem like a plain from the outside, but it is one of the best places in the country to just sit back and chill in the lap of nature.
Parvati river flows beside Kasol and the sound of flowing water along with a stunning view of the snow-capped mountains in the background, camping on the riverside is one of the best ways to spend a day in Kasol.
You will find food influenced by Israel culture, this is because Kasol inhabited by a huge number of people from Israel. The street signposts include inscribing in Hebrew too. Have a meal in the middle of the forest with greenery all around, Kasol has a few streetside cafes. Enjoy the delicious food served here with the scenic view of the mountains all around. Shakshouka is one of the mouthwatering dishes of the place consisting of poached eggs dipped in tangy tomato curry served with hummus and pita bread.
Kasol has a flea market to pick up trinkets, souvenirs, pendants, and even semi-precious stones with various other variety of items to take back home for family and friends.
10. Theog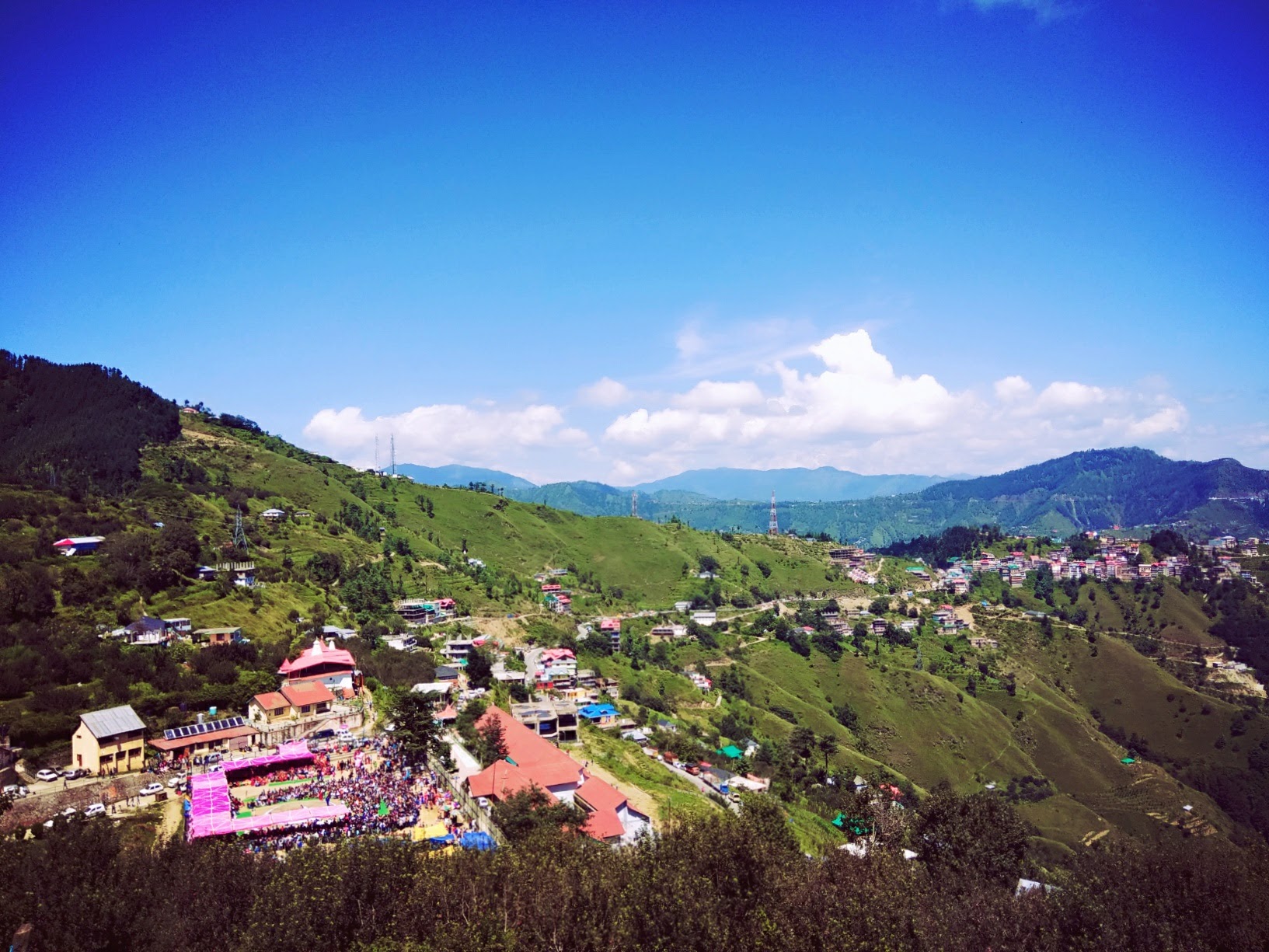 Theog is a quiet place and one of the less crowded attractions of Himachal Pradesh. Wrapped in the arms of the high ranges of Himalayas, this place has everything a popular hill station can give you but won't have the tourist rush. Comfortably located in the lap of nature, Theog is situated at a distance of 32 km away from Shimla. It makes up for a beautiful weekend getaway in the hills.
Away from the chaotic atmosphere of cities and noisy popular tourist destinations, it won't be wrong to say that Theog is an underrated destination, it is a blessing in disguise as the place is away from the city hustle and close to the lost roots of nature.
The people of Theog lives a simple life, reveling in the little joys of life. Farming is the main occupation of the people living here. Women equally participate with the male members of the family in the field. The languages spoken here popularly include Hindi and Pahadi.
While you are in Theog, do interact with the locals and experience their simple ways of life. You can enjoy the Pahari folk music, especially during the Summer Festival which is celebrated here every year. Theog lets you see closely the unadulterated rural way of life. Theog is considered one of the most favorite camping site for adventure seekers.