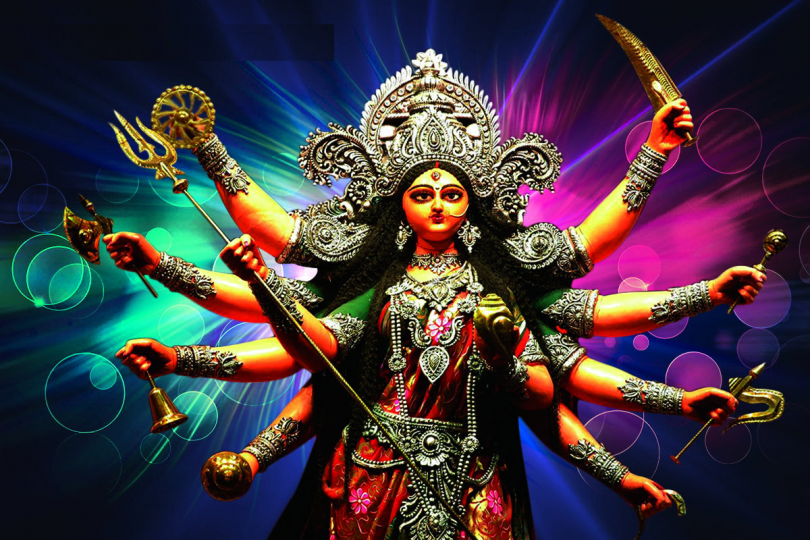 During Navratri, the aroma of fresh flowers, vibrant colors, drums, bells, lights, fireworks and this undoubtedly makes the air all the more captivating and extravagant. Due to the vast cultural practices in India, the festival is celebrated in different ways in different parts of India. Listed are the places that you should not miss to visit this festival season.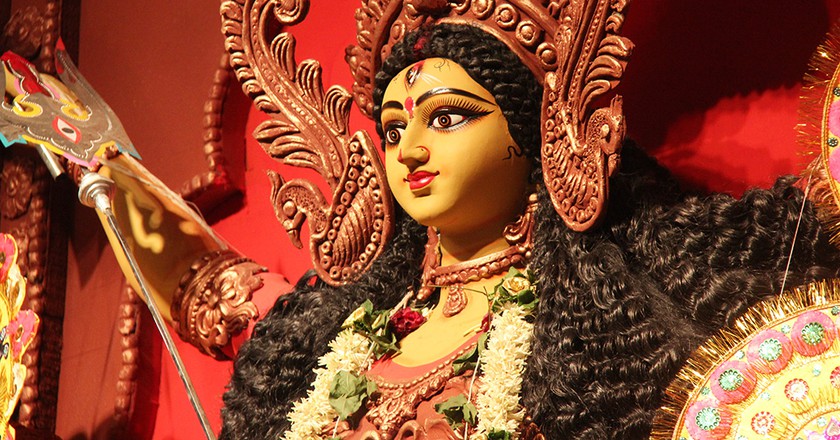 Navratri 2018 is around the corner and this period of approximate 10 days mark the presence of continuous pomp and show. Pandal hopping, Garba is Dhandiya are the most exciting things about this season of positivity. There is the aroma of fresh flowers, vibrant colors, drums, bells, lights, fireworks and this undoubtedly makes the air all the more captivating and extravagant. And to make your Durga pooja sorted, we have listed down the best places which you must visit this Navratri to make the celebrations grander.
1. Ahmedabad, Gujarat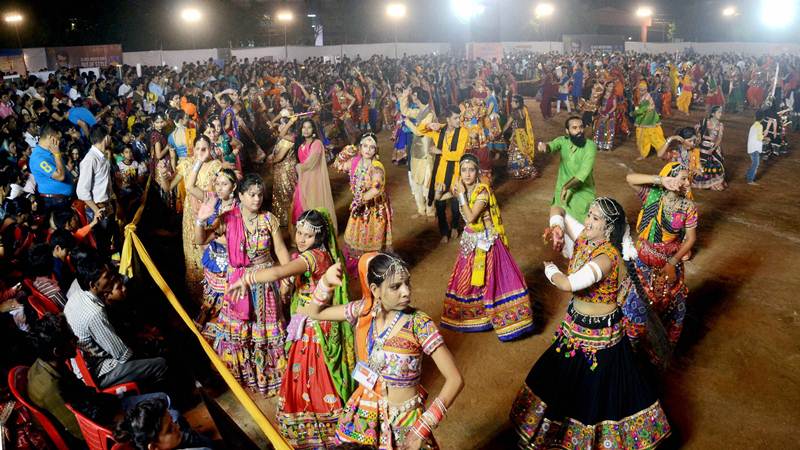 Ahmedabad is the new hub of festive celebrations and Navratri being the primary festival of Gujarat, Jalsa is bound to happen. Preparations for this festival are unparalleled to any other place. These 9 days seem to be like a revival of new and young energy. The colors, lights, rituals, and grandeur will leave you elated and hypnotic. Ahmedabad indeed lights up with joy and happiness. People from different age groups enthusiastically participate in dandiya and garba raas thereby making Navratri exuberant. Not only garba but Gujarati authentic dishes like thepla, khakhra, dhokla are also the main center of attraction. Navakhi ground, Laxmi Vilas Palace, Sarkhej-Gandhinagar highway are must-go places.
2. Mumbai, Maharashtra
Amchi Mumbai is another big festive hub which promises musical nights, colorful grounds, lively streets, and outstanding aroma. It seems like entire Mumbai is rejoicing the arrival and stay of Goddess Shakti. Every nook and corner seems to be alive with traditions, colors, lights, and festivities. The city of dreams celebrates Navratri as a gala affair with more than 200 community. Balkanji Bari of Santacruz, Santa Cruz Vashi, Andheri and RK Mission at Khar are must visit places.
3. Surat, Gujarat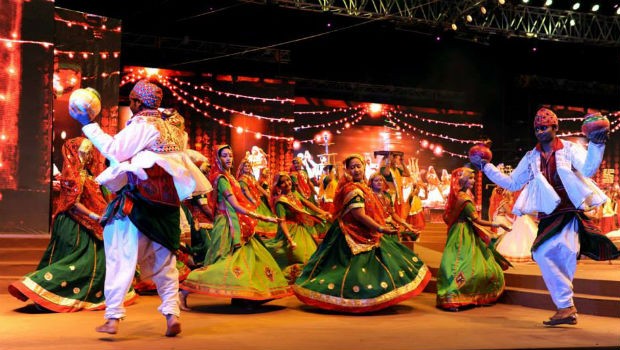 Navratri is one of the most exciting celebrations of the year in Surat. Many foreigners join the celebration to witness the best festive season. The Diamond city glitters and dazzles during these 9 days of Navratri to offer the most beautiful view and exciting celebration. There are various cultural programs that continue till late night and offer a splendid experience of these nine days. The entire city is beautifully covered and decorated with colorful lights. Each club and society hosts their Garba program and there are people from all around the corner who dance together as a dedication to Goddess Shakti. Main centers of attraction are The Surat Indoor Stadium Navratri Celebration, etc.
4. Vadodara, Gujarat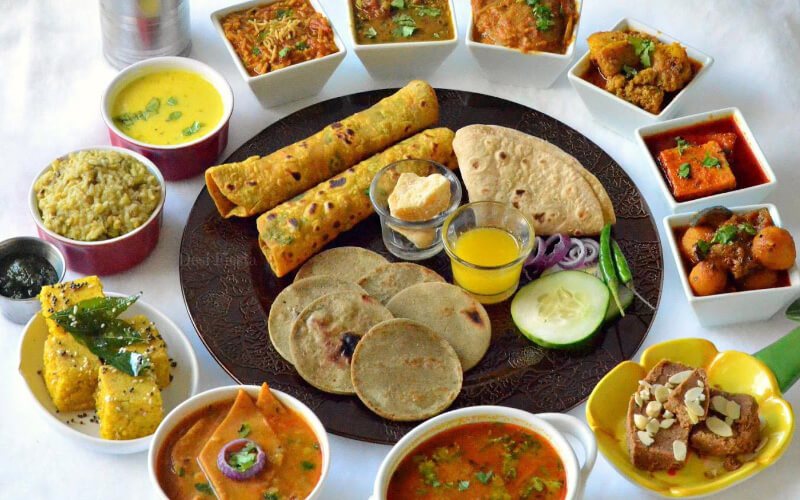 Navratri in Vadodara is like never seen before. The entire Vadodara observes colorful and hearts throbbing rituals during these nine days. The grand scale in which they celebrate the festivity is worth a watch. Locals and visitors participate in the cultural events with pomp and show. It is great to see tapping toes dancing in rhythmic beats and even artists from all over the country are invited to perform in the mega celebration. The spectacular procession which is carried out on the last day is the center of attraction for the majority of tourists. United Way Of Baroda and Shishu are the hub to visit.
5. Mysore Palace, Karnataka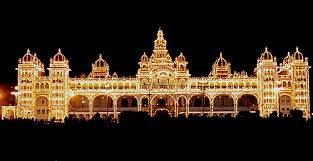 Another enthralling &mind-boggling destination for celebration is Mysore. It offers a royal ten-day extravaganza during Navratri and Dassara. The celebration is indeed treat to eyes and tongue. Mysore Palace serves to be the center of attraction during the festivity. With about 100000 light bulbs, Mysore shines like a dazzling fort celebrating the festival of lights and sparkle. Even you can experience the Jumbo Savari or the royal procession which includes the idol of Goddess Chamundeshwari mounted on golden mandap placed on top of an elephant that is decorated beautifully. Various dance performances, royal horses, camels, decorated elephants serve as the cherry on the cake to this grand celebration. Another major attraction is the Panjina Kavayithu (torch-light parade) held at Bannimantap ground which happens on the last day of this festival season.
6. Ramleela Maidan, Delhi
Delhi offers one of the most entertaining and dramatic celebrations during Dusshera. There are a number of Ramlila and puja pandals events held in every nook and corner of the city. You might find innumerable grounds where y small statues of Ravana, Megnath and Kumbkaran are placed but the grandest of all the streets of Delhi is one held on the Ramlila Maidan. You will find over thousands of people from all over India who come to witness the grand celebration of Ram's victory over Ravana. Apart from Ramlila Maidan that offers grandest Ramlila performances, you can visit Chittaranjan Park that acts as mini Kolkata. The delicacies are a must have. The experience is mesmerizing as it offers to be one of the most vibrant festive affairs.
7. Kolkata, West Bengal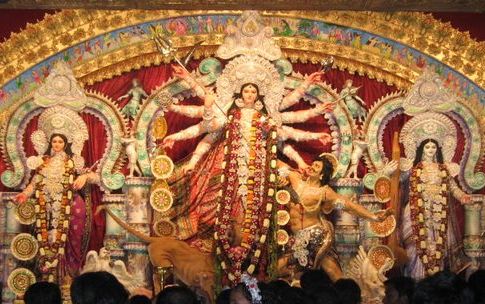 Kolkata offers one of the classic Durga Puja celebration.Visiting the 'city of joy' during Durga Puja will make you experience the real magic.The themed pandals, grand idols, and appetizing cuisines offer to be the most exciting part of the trip. The rich Bengali culture celebrates the festival with colors, prayers, lights, music, dance, mouth-watering food and it is indeed a show to watch. They celebrate the arrival of Goddess Shakti as the arrival of the daughter back to the paternal home and so the celebration is grand and great. They celebrate by having nine-day long extravaganza including the entire cultural heritage and dances and the last day being Durga Visarjan. There are different clubs which put up a number of theme-based pandals with large-size idols of Shakti.The grandest celebration of Navratri can be witnessed in Siliguri, Jalpaiguri, Birbhum, and Bankura. The Durgatsab of North Kolkata, Ahritola Sarbajan in Durgatsab, Telenga began Sarbojanin Durgatsab, Sikdar Bagan, SadharanDurga Pooja are the must-visit pandals.
8. Varanasi, Uttar Pradesh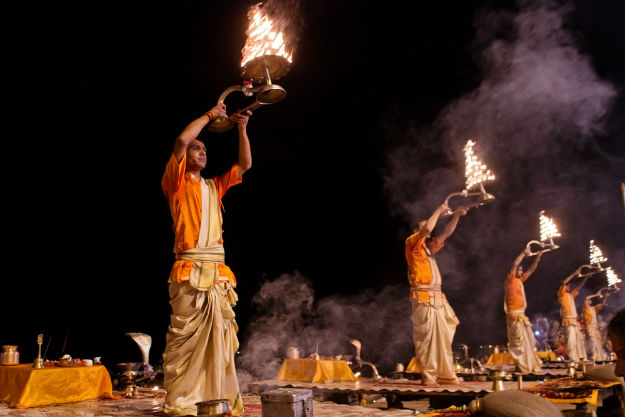 Another special and unique way of celebrating Navratri is witnessed in Varanasi. Navratri marks an aura of positivity, festivity and spirituality. Ramlila which is dance and drama act continues to be one of the favorite happenings of Navratri in Varanasi.During this time, entire Varanasi offers a great stage but Ramlila ground at Ramnagar puts up the grandest show which is worth a watch.A huge fair is held which attracts people from all over India.
9. Kullu, Himachal Pradesh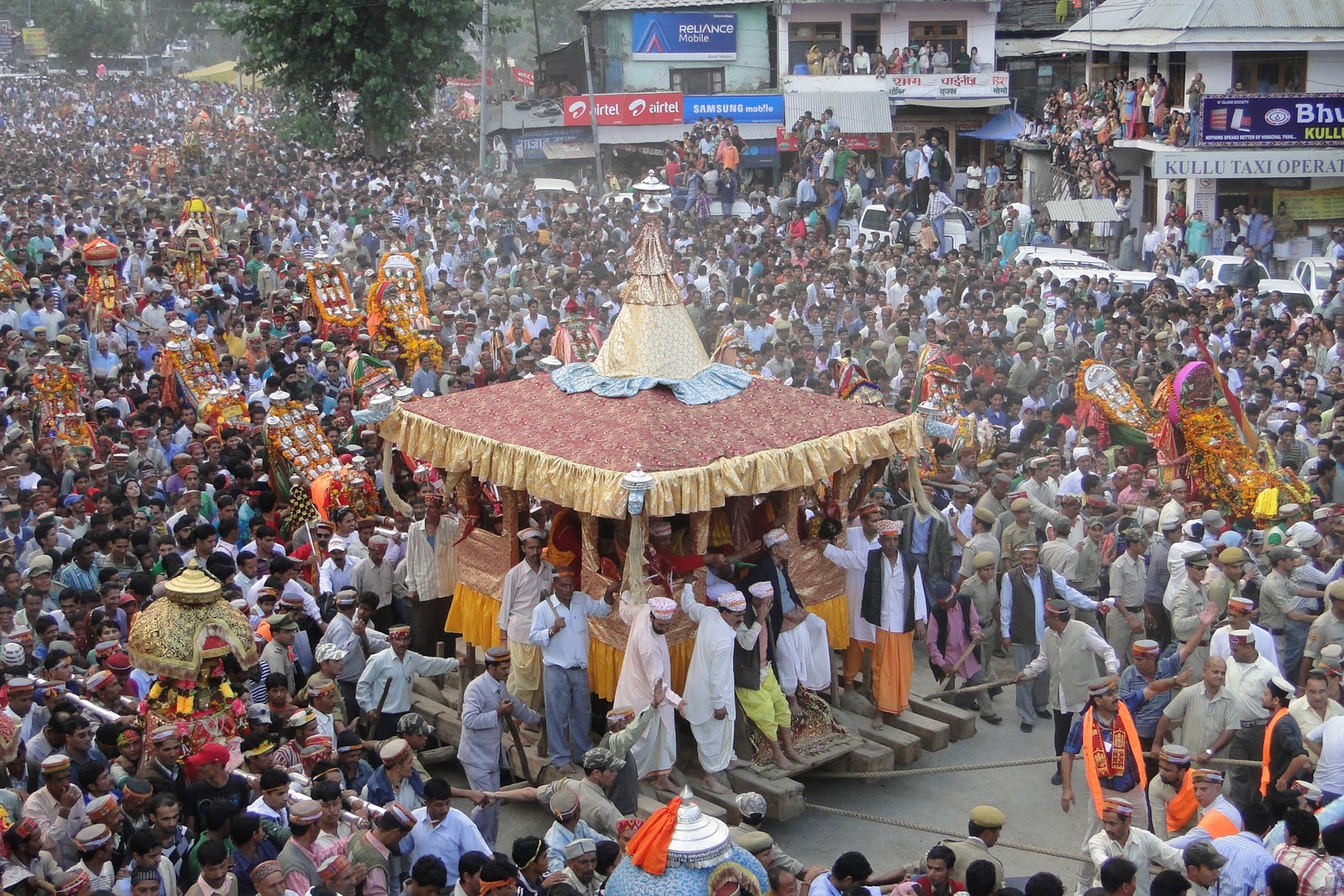 Dussehra is one of the renowned festivals of Kullu Valley. It is celebrated in the Dhalpur Maidane and the entire tribe rejoices the win of Lord Rama over evil. Kullu valley offers to one of the most exuberant view and celebration as it is illuminated with light and music. Grand processions are carried out where all the idols of gods and goddesses and are worshipped with great devotion. Himachal Pradesh has a unique way of celebration through a number of processions. Dhapur Maidan of Kullu Valley is a must visit.
This Navratri just chooses your destination and go watch unique rituals, do pandal hopping, enjoy cultural activities and delicacies, wear traditional dresses, do some garba and dandiya and enjoy the shopping spree. So just pack your bags, roll up the sleeves, grab your camera and hit these places to have a happier, fuller and a Mega- Navratri.